2021 Winter Sports
Ski Attire Care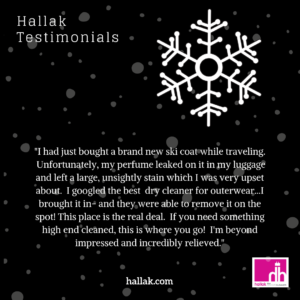 The 2021 winter sports season looks a little different this year.. If you have been outside these last few days, you may feel like you might as well been on the slopes. Between the cold and all the snow, it truly feels like February.
For many, the cold simply means the perfect ski season – and for other cold weather sports.  Whether you are heading out this weekend or already have, we would like to provide you a friendly reminder about your ski outerwear and garments.
After a long day outside, these items deserve some TLC. (Sometimes, they may be in need of a thorough professional cleaning.)  Unfortunately, these pieces can be placed back into storage or a certain closet until the next trip or (worse) season.  Over times, any stains are allowed time to set in; this will make them more difficult to remove at a later date.  There are also stains that you may not see, which may cause discoloration over time.
Cleaning your garments will not cause damage. Waiting too long to clean items may actually cause damage that may not be reversible.  Questions? Call (212) 832-0750 or stop by our store today.  Ready for a pick-up? Schedule online, try our app or give us a call!