September 2021 Outdoor Furniture Care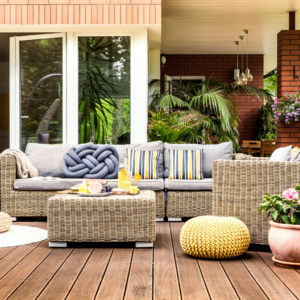 It's your September 2021 outdoor furniture care check-in. After yesterday's storm, many have found themselves in cleanup mold -or worse.
Treat your outdoor furniture to some TLC from your friends at Hallak. You may schedule a pick-up for cushions or have an on-site cleaning. In addition, we also offer expert level water restoration.
For many, the end of summer can be depressing. Even in this strange summer, many were able to venture out for a day at the beach, a lunch at an outdoor cafe or even some small backyard entertaining. While you may have several weeks left of outdoor fun, it is still an ideal time to begin thinking about your patio furniture's care.
Prior to storing any furnishings such as upholstered cushions, you must clean all the items. This will alleviate any possible future issues such as discoloration and bug damage.  
Throughout the warmer months, your outdoor furniture certainly sees its share of sunlight, rain, insects, food, drink spills, etc.  While you may periodically (or in an 'emergency') spot-clean, this does not remove all the dirt, food remnants and other possible damaging  outside factors. That's where we come in. Allow us to be the back-up to your preventative maintenance. Before storing, a full professional cleaning will prepare them properly.   Then when spring arrives, there will be not surprises. Doesn't that sound nice?
Hallak's team can pick-up your items or clean them on-site. For off-site care, please call (212) 832-0750 or schedule your pick-up. If you are interested in an estimate, email info@hallak.com. Team members are waiting to hear from you – and don't forget about our additional home furnishing services.