Customer Service 2021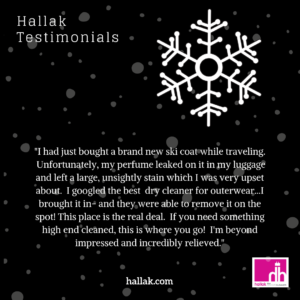 Passionate customer service 2021 is our motto this year.
During this last year, we have all been through a lot.  And now more than ever, it is important to be there for each other. As a dry cleaner, there are a few ways we can help make life a little easier.
First, we continued to stay open with our award-winning dry cleaning.  Dry cleaning and laundering are proven sanitizing methods. Then, we added another level of service – wash-and-fold. Finally, one more level of protection added. Hallak's anti-viral fogging for your home (and commercial spaces).
Through it all, our team continued to provide genuine customer care. (Please know we also appreciate how reciprocal you were with all of us.)   Even with a reduced team, we hope that you have felt the same level of customer service throughout 2020. At Hallak, we believe in making you happy – and seeing you again.
With over fifty years behind us, many walk-ins (and pick-ups) end up becoming long-standing customers (and friends).  We are a family-owned and operated dry cleaners with an emphasis on family.
Fabulous customer service speaks volumes and we understand that.  When a client leaves our store, it is our goal to have them leaving feeling their very best.  You should feel confident in knowing your wardrobe is receiving the very finest in fabric care.  Questions? Concerns? Please feel comfortable  enough to ask questions, point out any possible issues, etc.  Therefore, allowing Hallak's team the opportunity to make things right.  A customer's voice should be hard – and we are ready to listen.
Hallak Cleaners' 'family' prides themselves on being team-oriented.  Together, it is the team's responsibility to provide you with the very best in customer service.  If you are a current or former customer and have suggestions, please feel free to email info@hallak.com.  Here is to a new year together – with you!