July 2020 Weddings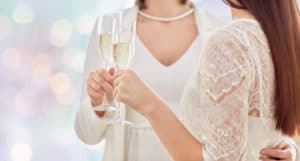 July 2020 weddings are a little more intimate this year.  However, couples have a new perspective on their 'dream wedding'.
In March, many couples cancelled their wedding due to the pandemic.  As the weeks passed, spring and summer couples found themselves scrambling to postpone, pushback, cancel, etc.  Difficult decisions had to be made.  Families, engaged couples and wedding professionals struggled. Definitely a confusing time.
By late spring, New York and New Jersey soon-to-be honeymooners (and vendors) continuously learned the ever-changing orders. From no large gatherings to substantial outdoor gatherings, we have all adapted together.
Through it all, Hallak let those couples know that they had a friend.  For example, brides with undetermined wedding dates are storing their wedding gowns – at no additional charge.  Throughout the months, bridal consultants reached out to let brides know they had one less stress. Their wedding gowns are safe!
Others went from having three months to finalize alterations to suddenly rushing to have them completed.  Hallak's talented tailoring team took care of everything! We had too. Our wedding department takes our responsibility very seriously to these couples. And we like to think it shows.
While it may have been a bumpy road, we are making our way together.  Hallak Weddings thanks you for your patience and understanding along the way.  Thank you.