Welcome New Clients to Hallak Cleaners
Thank you for taking the time to visit our site and learn more about our extensive services. For new customers, we offer this Welcome Pack (seen below) which can be requested upon the delivery of your first order.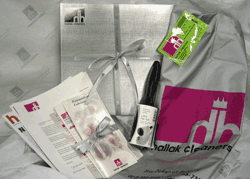 The welcome pack includes your own personal laundry bag (which will be returned with subsequent orders), a lint brush, pick-up receipts, price list, our brochure, and a few of our recent newsletters.
Please complete the form below with your preferences and special instructions. This will enable us to fulfill your specific needs. You are also welcome to call (212) 832-0750 and speak directly with a Hallak Cleaners representative. You can also print out a Temporary Receipt to include with your order.
We'll pick up. We'll deliver.  You'll look great.