Ugg Cleaning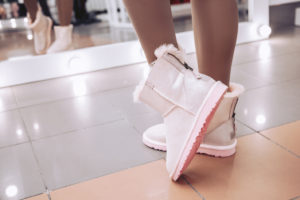 Ugg cleaning by the experts at Hallak. Trust our expert suede professionals to give your favorite Uggs the care they deserve. With regular cleaning they will look better, feel fresher and last longer.
We offer specialized cleaning services for any style and size including complete inside and outside cleaning, color restoration, stain removal, water-proofing, seam and tear repairs and zipper replacement.
Expert Ugg Care
Shoes & Slippers – $37.20+
Short Boots (8″ and shorter) – $50.00+
Tall Boots (Over 8″) – $57.40+
Basic cleaning includes some general color restoration and a water-repellent treatment.
All additional work and fees will be approved by customer prior to processing.
Did you know that Hallak has two store locations? You can find us in both Bergen County and Manhattan. However, we know life gets busy so we also offer delivery options. Free pick-up in Manhattan, Bergen County, Short Hills, Westchester, Greenwich and the Hamptons. There are also plenty of out-of-state clients who ship items to us regularly including their dry cleaning and wedding fashion.
Schedule your Ugg Cleaning pick-up today by calling (212) 832-0750 or using the Hallak app. And follow Hallak on Instagram for fashion tips and trends.
"As others have mentioned, their Ugg cleaning service is great.  I was treated very professionally and my Uggs were cleaned in about a week.  In fact, they look brand new - a big compliment after years of wearing in New York City snow and sludge.  Hallak is very competent and was worth the trip to the Upper East Side for me!Your Uggs treat your feet with TLC - but have you thought of doing something for them lately?"