Ties and Scarves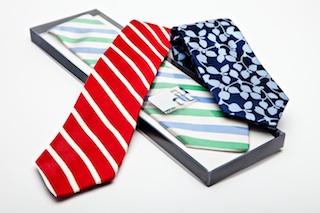 Ties and scarves  are an outfit's finishing touch to many of your favorite ensembles.  Unfortunately, they typically rest in just the perfect place to attract those pesky stains.  Lunch left-overs on your designer silk tie. Lipstick on your Hermes scarf.
While simple in shame, we form an attachment to these accessories. After all, men's and women's fashion are all about those finishing touches.  That little something.  Add color, make a statement, show your fun side.  Simple in shape and simply perfect.
When your favorite silk accessories become stained or wrinkled, it can be quite troublesome.  Who can you trust to handle them with care?  As with your wardrobe, you can trust Hallak Cleaners with your accessories too.  From your leather handbag cleaning to your silk tie spot-cleaning, we have you covered.
Let us treat them with the proper cleaning and finishing they deserve.  Quality fabric care will ensure that your items will not only be returned to you looking their best but also extending their life.
Quick Silk Tie Care Tip!
Tie tacks look great.  However, they often leave behind tiny holes.  In general, most ties are silk which is a delicate fabric.  For hole prevention on the outside of your tie, insert the tack through the back of the label or fabric keeper and then attach to your shirt.
Additionally, all ties and scarves should be inspected prior to returning to your closet or their special drawer. Similarly to your clothing, stains that sit – set. During inspection, check for stains, loose threads, worn seams and more. See something? Schedule your drycleaning pick-up or call (212) 832-0750.  Be sure to include your shirt laundry, fine suiting, bed linens and more. (Hallak now also offers wash-and-fold delivery.)
In the meantime, follow us on Facebook, Pinterest, Instagram and more for fashion fun and trends!
Hallak Packaging Photo: Timothy Glenn Photographers